Revolutionary drop-in clinic for minor ailments & injuries
WeCare Now provides fast access, low-cost healthcare services. Our revolutionary system allows us to provide care with very short waiting times
Free for ACC & 2 - 14 year olds
Enrolled patients don't need to pay for accident (ACC) treatments
From $20
Enrolled patients pay just $20 per condition. Non-enrolled patients pay $38 per condition (including ACC and Under 14)
Minimal Wait Times
Efficient care protocols ensuring very short wait times for consultations.
Extended Opening Hours
We are open from 10-7pm Monday-Friday, 10-5pm Saturdays at our Bush Inn clinic
Treatment
Get prescription medicines, off-work medical certificates, wound care and more from our clinicians at your appointment
No Appointment Required
Easy access, drop-in service available Monday to Saturday
Popular Services
WeCare Now provide fast access, low-cost service for common minor ailments and injuries. We accept Drop-ins and our revolutionary system allows us to provide service with very short waiting time.
Easy! one, two, three and get better
Step One
Walk-in & Complete Questionaire
Simply walk-in to our clinic and select from a list of conditions from a Kiosk. Answer simple pre-consultation questions, to outline your symptoms and ensure we can safely treat you at WeCare Now.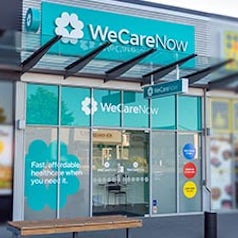 Step Two
Medical Consult
Once submitted, after a very short wait, you will have a face-to-face consultation with our clinician who will discuss treatment options with you. For ACC our clinician will provide appropriate treatment, including dressings, wound closure, bandaging, vaccinations etc.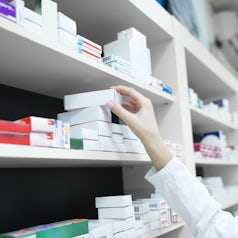 Step Three
Get Treatment
At the end of the consultation a treatment pack will be provided along with a visit summary. Treatment pack includes prescription medicine and a medical certificate if necessary.
Pricing
Enrol with WeCare
Become a registered patient by enrolling with WeCare, you will pay less and receive many other benefits.
Registered
$20 per condition
FREE for ACC
FREE for Under 14s
Dedicated Team
WeCareNow is founded and backed by NZ qualified doctor, as part of a WeCare Primary Care Group based in Wigram and Lincoln. NZ qualified clinicians.
Meet the Team
What is WeCare Now
WeCare is building NZ's most accessible healthcare system. WeCare aspire to creating a patient-centric primary care clinic that is designed for real life.
WeCare Now is a new concept walk-in clinic that aspire to revolutionise the way we treat Minor Ailments and Injuries. We have carefully designed technology and care protocol to safely and very effectively manage common health conditions in a cost and time efficient way.
Our innovation allows treatments to be provided for very low cost Free for ACC and Under 14s or Just $20, with minimum waiting of <5minute.
Who is WeCare Now For?
WeCare Now is for anyone over the age of 2 and living in NZ who has minor ailments or injuries, that wants to be treated quickly for very low cost.
Do I need an appointment?
No, you do not need to make an appointment to use WeCareNow. Please simply walk-in during our hours, to be seen. You can trust that your waiting time will be very short.
What treatments can you provide
For injuries,
tubigrips,
bandaging,
simple wound closure,
splinting
removal of sutures
extensive wound dressings
Iniital ACC lodging
ACC off work certificate of up to 1 week.
vaccinations for tetanus
Non injury consultations
Common medication to be picked up from clinic, without needing to visit pharmacy

Antibiotics
Steroid creams
Anti viral
Analgesia

Less common medications can be prescribed and sent to pharmacy
Off work certificate
COVID19 care
RAT & PCR testing
Long COVID assessment and rehab
All of above are provided for no extra cost, and a visit summary will be sent to your email.
What treatments we can't provide
Care for under 2 year old
Care for serious or complex medical conditions - will need to go to Wigram or Lincoln
ACC18 (renewal off work certificate)
WINZ certificate
Prolonged prescription of controlled drug
Is my information safe?
We take your privacy and the security of your information very seriously. WeCare complies with all relevant privacy laws and has implemented strict security protocols to protect your information.